What are you looking for?
Cardiff Surprises with Parks & Green Spaces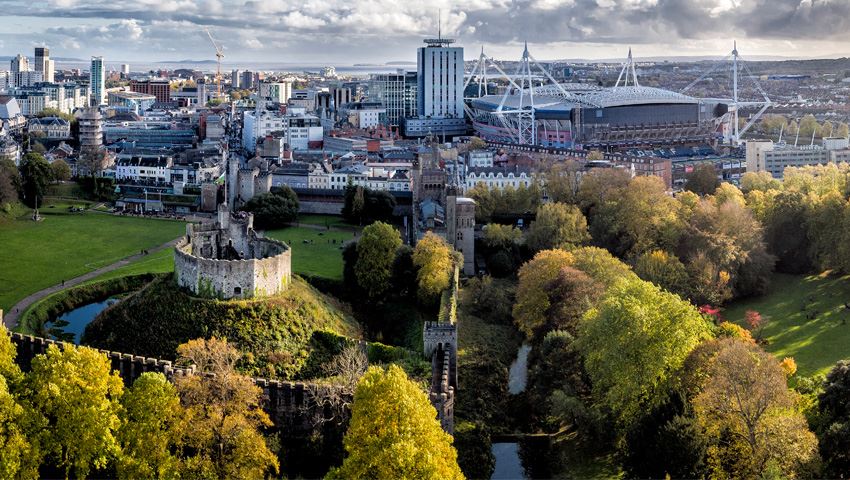 Cardiff surprises with many parks and green spaces.
As the wind picks up and the Autumn leaves fall it is wonderful to take some time to stroll round Cardiff's many parks, see the plentiful open spaces, enjoy the running water and listen to the rustling leaves.
Like our many other visitors, event delegates can take significant pleasure in our "green" offering, allowing themselves to become immersed in nature throughout their time here is Wales' capital.  Whether they walk the tree lined streets or head to one of our parks, the city is full of quiet place to recharge or reflect as part of their visit.
In particular Bute Park, one of our largest green spaces highlights the opportunity to "forest bathe".  This is where visitors spend time immersed in nature, connecting with the natural world using their senses. From smelling the flowers and watching the changing tree colours to hearing the bird song and feeling the breeze on their skin – it offers a true sense of wellbeing.
In fact, Cardiff is so full of nature and open areas that 14 of our parks and open spaces have been awarded Green Flags, the coveted international accolade that reflects biodiversity, community involvement, maintenance, presentation, cleanliness and environmental management.
The 14 Flags have been awarded to: Bute Park, Cardiff Bay Barrage, Cardiff Bay Wetlands, Cathays Cemetery, Flat Holm Island, Grange Gardens, Heath Park, Parc Cefn Onn, Roath Park, Rumney Hill Gardens, Thornhill Cemetery and Victoria Park have all retained their existing awards.
All too often when we think of the sustainability of our events we focus on the microcosm that is the venue, food and specific requirements of an event without thinking on a macro-level.  Learning outcomes, knowledge retention and return on organiser investment all go up in line with improved delegate wellness.  What better way to support that than through a destination that allows the mind to run free and the senses to soar?
Delegate itineraries can be organised by Meet Cardiff to provide an opportunity to recharge and refocus in the city or in the Bay.
Contact Meet Cardiff
HelloMeetCardiff@cardiff.gov.uk
MeetCardiff.com
@MeetCardiff  #MeetCardiff
+44 (0)29 2087 1846
All Cardiff venues accommodating business events are preparing for re-opening and are waiting to receive the road map to opening from Welsh Government. In the meantime hotels and hospitality venues are participating in the 'Good to Go' scheme and have been working as a partnership to ensure that Cardiff is Covid secure for all visitors to the city.
More information here.
December 2020
SUBSCRIBE TO RECEIVE OUR 20 POINT CHECKLIST FOR CONFERENCE PLANNERS
Subscribe to our Meet in Cardiff mailing list and you can download our interactive checklist for event planners, with 20 important points to tick off on the way to organising a great conference.